If you have been hanging around StaceyLehn.com or seen me on FaceBook, you must know by now just how important health is to me and my family.
More specifically my struggles with obesity, maintaining a healthy weight and creating a healthy life.
There are however, folks out there who are at their healthy weight and still feel unwell.
If you want to have more energy, a stronger immune system to fight off those nasty germs that make us unwell, why not take a natural holistic, proven effective approach?
If you are ready to make the new year your healthiest year ever, start here!
Contrary to what media hype is telling you about our food source, vitamins are essential to life—but most are not produced naturally in the body. A recent study showed that 90% of Americans are lacking key nutrients in their bodies. Even if you're conscientious about your diet, with hectic work and family schedules, it's almost impossible to ensure that you're getting
all the nutrients your body needs day in and day out. And many common factors such as stress and aging can also increase your body's need for essential vitamins and minerals.
That's why supplementing with a broad spectrum of
quality vitamins
, minerals and other nutrients is so important for every member of the family.

So, what media hype is not suggesting is to chose supplements wisely, chose a company with high integrity and a long legacy of doing whats right and supporting health not just selling a pill for profit.
If you are ready to make the new year your healthiest year ever, start here, start NOW!
Vitalizer provides a comprehensive spectrum of clinically supported vitamins, minerals, antioxidants, phytonutrients, omega-3 fatty acids, probiotics and more in
one convenient daily serving. Vitalizer is designed to meet your specific nutrient needs, based on your gender and age.
There are three custom formulations created specifically for today's active women, men and adults over 50.
To learn more about which vitalizer is right for you go HERE.
Patent-pending delivery system designed to enhance absorption of key nutrients
Based on 12 clinical studies and a first-of-its-kind Landmark Study
Highly potent, comprehensive, and balanced daily supplement providing 23 essential vitamins and minerals and 100% or more of the Daily Value of all vitamins.
Microcoated for immediate release in the stomach to enhance absorption of folic acid
formulated with key nutrients to help meet the specific health needs of today's healthy, active man, woman or those over 55 including benefits for*:
Bone health—high in calcium and vitamins D and K

Breast health—with more vitamin D**

Heart health—with omega-3 fatty acids and vitamin E

Immune health—high in vitamins C and D, plus zinc

Physical energy—high in all eight essential B vitamins

Reproductive health—high in folic acid, iron, and calcium

Digestive health—with probiotics

Healthy hair, skin, and nails—with vitamins A and C, plus biotin and omega-3 fatty acids

Every Vitamin + Minerals Your Body Needs

Bio-optimized nutrients for optimum absorption

High potency to fuel your body's most vital functions

100% or more of the Daily Value of all vitamins

All eight essential B vitamins, including biotin

Higher levels of vitamin D3, the most potent form of vitamin d

Most Powerful Antioxidant Spectrum*

Helps protect cells, tissues, and organs against aging*

Superior protection against free radical damage*

Full-spectrum vitamin E from all eight natural forms

26 antioxidants working together to augment your body's antioxidant network*

New triple-berry blend, an exclusive source of polyphenols

All 7 Omega-3 Fatty Acids

Help reduce the risk of heart disease**, also promotes brain and joint health*

High potency EPA and DHA

Ultra-pure, pharmaceutical grade

Contains natural fish oil derived from small, cold-water fish

Certified sustainable by Friend of the Sea

Guaranteed Superactive Probiotics

Support healthy digestion and immunity*

Extensively studied active cultures

Patent-pending delivery system
YUP, You get all those nutrients when you take the Vitlaizer!

Shaklee Micronutrient Advanced Release Technology™
Shaklee is the only multinutrient supplement pack in the marketplace with S.M.A.R.T.™, a patent-pending delivery system designed to improve absorption of key nutrients, ensuring the right nutrients get to the right place at the right time.
To learn more about the S.M.A.R.T. delivery system go HERE
and to limit the intake of high fat foods particularly from animal sources.
Shaklee Protein is the highest quality plant-based protein available, 180 Soy Protein is a biologically complete protein source that's:
Naturally low in fat

Cholesterol free

Replete with all essential amino acids.
As part of a healthy diet:*
Helps build muscle, skin, and hormones

Supports the immune system

Retains normal cholesterol levels

Promotes heart and prostate health.

Contains soy isoflavones, which can help minimize hot flashes and promote breast health.

24 grams of hunger fighting protein *

6 grams of fiber

Powered by Leucine TM

23 vitamins and minerals

Non-GMO soy protein

Low glycemic. GI Value: 31

No artificial flavors, sweeteners, or preservatives added

Gluten free, lactose free

Most affordable on the market

Whey formula available for those sensitive to soy products
Look at all that you get in one smoothee!
For those watching their weight,
this smoothie is under 300 calories.
If you ate the food to equal the same nutrient value the calorie count would be over 1200!!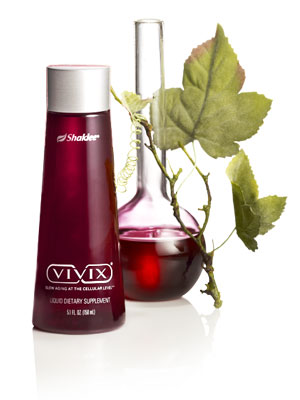 Global cutting-edge research in the fight against cellular aging and
years spent in partnership with leading scientists have culminated in Vivix—a scientific breakthrough from Shaklee. only Vivix con- tains both resveratrol and a proprietary phytonutrient blend. This blend harnesses the powerful antioxidant properties of rare mus- cadine grapes and has been shown to be 10x more effective than resveratrol alone in slowing a key mechanism of cellular aging.*
Contains key ingredients that have been shown in a clinical

study to improve cell defense and in numerous laboratory stud- ies to promote cell energy, cell repair, and cell performance*

All natural—no artificial flavors, sweeteners, colors,

or preservatives

Key ingredients that are 10X more powerful than resveratrol

alone in slowing a key mechanism of cellular aging*

Delivers a broad spectrum of over 15 polyphenols—including

ellagitannins, one of nature's most potent antioxidants*

Patent pending and exclusive to Shaklee




VIVIX helps to keep cells healthy......




In a clinical study, Vivix key ingredients were shown to blunt the biological stress response—which, over time, can lead to cellular aging.*

Cell energy

In a laboratory study, Vivix key ingredients were shown to increase energy production at the cellular level*, which is known to decline as we age.

In laboratory studies, Vivix® key ingredients were shown to protect and repair cellular DnA*, which is assaulted millions of times every day. These assaults can damage the cell's DnA, creating a "typo" that may compromise cell function and longevity.




Cell Performance

In laboratory studies, Vivix key ingredients activated a genetic regulator that helps improve cellular performance and inhibited the formation of damaging Age proteins, which can accumulate and result in cell damage.*







****************************

NutriFeron is a powerful breakthrough in immune system science. It is a patented, clinically proven blend of immune-strengthening plant extracts. For daily use, it increases the production of your body's natural interferon, a critical activator of the immune system.




NutriFeron works at the cellular level in two ways:

1.Rapidly activates your immune system's defenses

2.Mobilizes the immune system's "search-and-destroy" teams




NutriFeron is the only immunity supplement formulated by the discoverer of natural

interferon, after an exhaustive review of 200 natural compounds.

Patented, clinically proven formula

A natural way to keep your immune system finely tuned and on ready alert, taking

the defenses you already have and making them even better.*

Available exclusively through Shaklee, NutriFeron is a powerfully effective supplement

that has exceeded a stringent set of scientific tests for safety, purity, potency, and

clinical tests for performance.

Star-K kosher certified

All products are backed by our 100% guarantee!

If you don't feel better in 30 days (or less), get your money refunded.




************************************************

If you are tired of feeling tired and sick of being sick, get started on your wellness program today!




Best Results - Rx for a Healthier Life™ (adding Vivix & Nutriferon)

Want more info? Have questions? Join our FREE online meeting Monday December 30th at 7pm EST.

Hear more about our natural wellness program and get your questions answered LIVE! Click below to get registered




The information is not meant to be used in the diagnosis or treatment of disease. The recommendations are geared towards the prevention of disease. Furthermore, the descriptions of individual products in this pamphlet are not meant to indicate that they can significantly reduce the risk of disease by themselves. Rather the descriptions are meant to indicate the role that they may play as part of a holistic approach to optimal health.




(we went to a local light show)

(This year it was Camryn's turn to put the star on the tree!)







Have a great day & be well,