Last week to get ready for CINCHclub!
If you haven't already placed your
CINCH
transformation kit, you still have time.
I have come across some folks that really want to take this challenge. However the one aspect of
CINCH
that has them second guessing is the cost.
This is what I sat to these folks;
1. Right now Shaklee is offering a special promotion. Place the Transformation kit on autoship, keep it on autoship for 3 consecutive months and the 4th month is free (that's $299.99 FREE!).
2. With the cost of the kit being $299.95 & with the promo, in the end the cost per month is just $224.96.
3. The cost per day is just $7.49! This cost includes 2 meals, 1 snack, 1 energy tea and the daily supplements (3 in 1 boost taken at each meal)
WOW! just $7.49 per day?
This is what a person would spend at McDonald's, ChickfilA or even at a Starbucks or Dunkin Donuts, which we all know are not nutritionally balanced and surely have contributed to the state of weight the majority of us are in.
Below are listed just a few with approximate prices.
The products purchased from these fast food franchises not only cost almost as much as the entire day with CINCH, fastfood products have little to no nutritional value.
STILL NOT CONVINCED?
Here is a comparison of other popular weightloss programs and what they include and the cost per program (right now
CINCH
is even less expensive with the special promo!).
CINCH
beats them all hands down!!
(thank you SHAKLEE)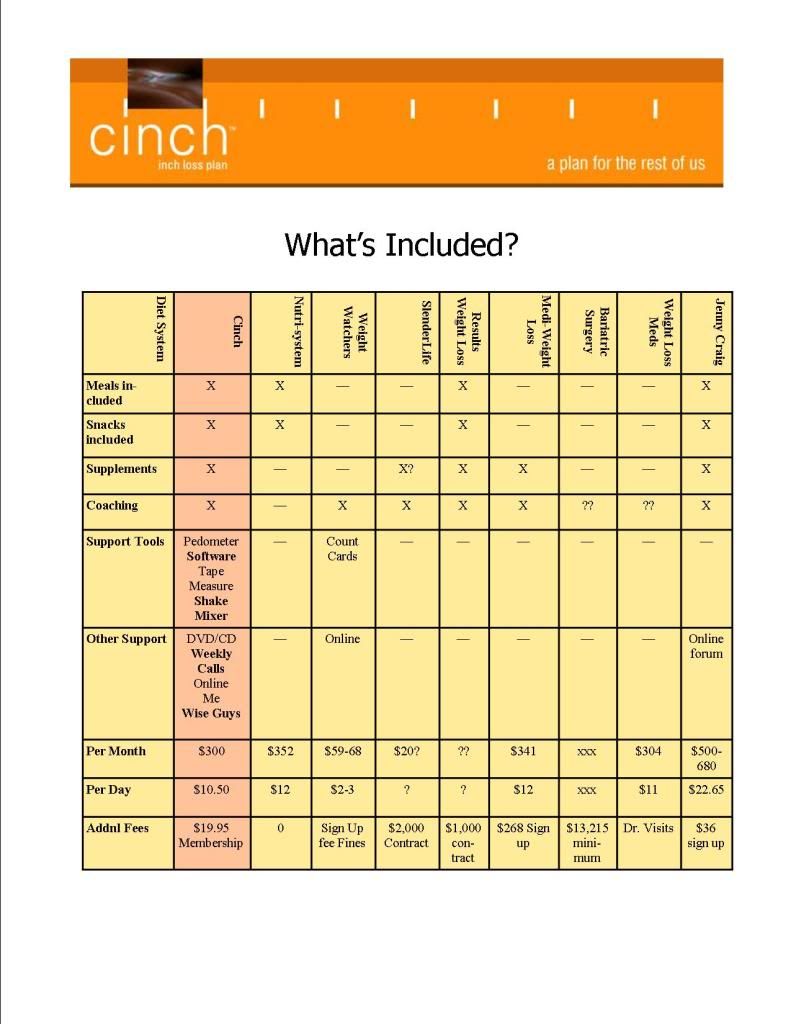 Personally, I include the cost of the kit within my family food budget since what I eat is usually included in the budget anyway. I have found that I actually save money & my family is eating better. Knowing that my children and husband are eating healthier is a great bonus.
If any of you have any questions or need assistance in placing your order, please email me or give me a ring 1(410)903-4076
Enjoy your week :)