2 weeks until the start of CINCHclub!
My
CINCH
kit has arrived :)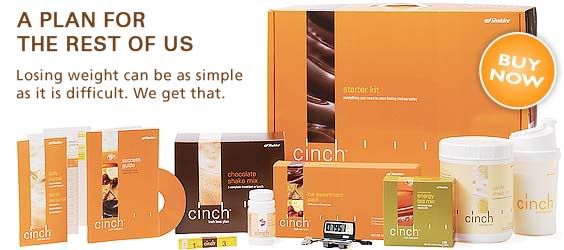 I placed it on autoship for the next 3 months and I will get the 4th month FREE! (yeah for savings!)
I hear from lots of people that the focus for them is weight loss. Although I am no nutritionist, personal trainer or a doctor, I know from personal experience and from my own research that muscle weighs more than fat and muscle is more condensed than fat. What does that mean? It means that given the same weight, muscle takes up less space. Which translates to a smaller waistline! So, to simply judge the success of a "weighloss" plan just on the amount of weight lost is insufficient.
What truly matters is the inches lost.
the CINCHplan:
1. promotes inchloss over weightloss
2. focuses on keeping muscle to aid in the burning of fat
3. incorporates leucine in the shakes and bars to be consumed
4. offers a simple plan that includes the 3in1 boost
(gives energy, regulates blood sugar and offers a daily nutritional supplement for optimal health)
5. optional energy tea, made from green, white and red teas
(I like to sweeten mine with agave)
6. offers an online support team
7. money back guarantee if not satisfied!
Don't forget about the free shipping offer with my CINCHclub!
Also, we will have this blog for information and inspiration for the 12 week program.
We will have weekly conference calls for anyone enrolled in the CINCHclub
Once the CINCH order is placed you will receive a refund for the shipping paid and also an email inviting you to our weekly calls!
On top of the fact that I know the products will help us achieve our inchloss goals, this online CINCHclub support will keep us motivated, help each each and most of all keep us accountable!