Do you want to lose weight? Get Healthy? Drop inches? Feel Better? Boost your metabolism? Cut cellulite? Increase your energy level? How about a 100% money back guarantee that it works?
Did you answer "YES" to any of those questions, then you will want to join our CINCH club.
CINCH start date is

January 22, 2012!
*This will be a 12 week program and will end May 13th, 2012*
To view real people who have CINCHED click here.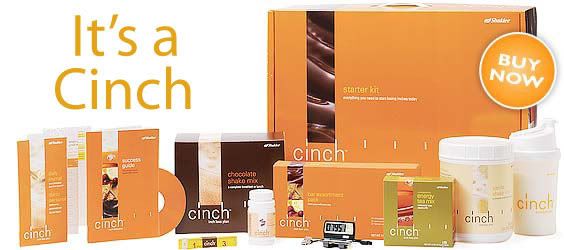 Order Cinch Starter Kit
here
The Starter kit comes with:
- chocolate shake mix (15 servings)
-vanilla shake mix packets (14 servings)
- 3 in 1 boost (42 count)
- assorted pack snack bars (10 count)
- energy tea mix (28 sticks)
Cinchwellness.com features meal and exercise plans, exercise examples, meal tracking, wellness workshops, community message boards, wellness articles written by Dr. Jamie McManus and more.
*Offer must be redeemed within 90 days of purchase of Cinch Starter Kit.
*Monthly cinchwellness.com access charge of $3.50 begins in fourth month.
FREE SHIPPING with the purchase of the cinch start kit!
*refund check will be mailed once order is processed*
Like the rest of you, I too want to accomplish those challenges listed above, which means I will also be joining this elite club.
Please email me directly if you are interested or have any questions about how this program/club will work.